​This is the Modal Cotton Panties pack of 6. These panties are made of 95% cotton and 5% spandex. The pack of 6 come in assorted colors including, beige, coral, rose, pink, red, green, and black. I have to say that these are my new favorite panties. They are so soft and comfortable. They have enough stretch to give the perfect fit and are not binding at all. The lace is placed in a great spot to give them a cute and classy look, without being in an annoying spot that would itch or bug me. I would definitely buy these panties again and would recommend them to others. Please click the link below to view the product.
***I received this item for a discounted price in exchange for my honest and unbiased opinion, which is what I have given***
Jenny O.
Powered by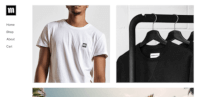 Create your own unique website with customizable templates.