​These rain boots are very pretty and well made. The insert is very soft and comfortable. They do not run true to size. I wear a shoe size from 8.5 to 9 and that is what I ordered in these boots are 8.5/9. They are small and fit my feet snug. I ended up having to take the insert out so I can wear them just with socks. They at least fit okay that way. I would not be able to wear them for a long period of time but since I got them just to leave by the front door so I can walk my daughter out to her bus without getting my slippers wet on rainy days. If they had a bigger size I would buy another pair because I really do like them but the ones I got are the biggest size that they offer. I really like the different color options they offer in these rain boots, they are all so pretty. They do state in their description that these do run small so they are totally honest and upfront about that. All in all I would consider purchasing these again for someone else or for myself if they ever offer a bigger size range. Please click link below to view product.
***I received these at a discounted price in exchange for my honest and unbiased opinion, which is what I have given***
Jenny O.
Powered by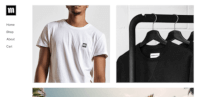 Create your own unique website with customizable templates.