I really like this diffuser. I didn't have one in my bedroom prior to receiving this one so I put this one by my bed to use at night. I love that it has multiple colored lights. You can have it to where it changes the color automatically or you can set it to stay on one color. The color changing bothered me at night because it kind of made me anxious so I set it to stay on one color. I tried blue because I thought it would be the most relaxing but it was a little to bright for me to be able to sleep, then I tried the red and it was perfect. It has a very pretty and relaxing glow to it. The diffuser gives a nice gentle mist that diffuses the oil perfectly. I am impressed by this diffuser. It automatically shuts off after it runs out of water, I am not sure how long it lasts but I usually sleep 6-7 hours at night and it is off before I wake up. It is the perfect size to sit on my night stand with out taking up too much space and it has a nice design to it. Please click link below to view product.
***I received this item for free in exchange for my honest and unbiased opinion, which is what I have given***
​Jenny O.

Powered by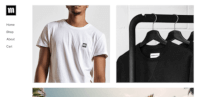 Create your own unique website with customizable templates.