I was diagnosed with fibromyalgia about 20 years ago. I have been unmedicated for over 5 years due to lack of medical insurance and being unable to go to the doctor. I deal with pain constantly and on a daily basis. My hands are constantly swollen, it is so hard to grip anything, and I hurt all over constantly. I started taking fibroxify the day I received it in the mail. About a week after starting it I started noticing that I was waking up in the mornings less stiff and swollen then usual. I also noticed that my migraines seemed to lessen somewhat, I know this isn't for migraines, but my migraines are a lot caused from the tension and pain in my shoulders and neck. I took 2 capsules daily except on days I knew I was going to be doing more then usual then I would take 2 capsules twice a day. After a lot of activity usually the next day I have to roll out of bed because I am in so much pain and so stiff it is almost impossible to move. After taking these I was able to at least get out of bed easier even after more activity. I ran out of these about a week ago and for the past 4 days I have been in so much pain and have had a migraine daily. I don't think it is coincidence and when I can afford to I will be buying some more. Please click link below to view product.
***I received this item at a discounted price in exchange for my honest and unbiased opinion, which is what I have given***
​Jenny O.

Powered by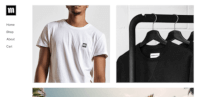 Create your own unique website with customizable templates.