​Overall I am pretty impressed with these loofahs. They are kind of awkward to hold and use, it feels like the flower scrubby part may fall of if you don't hold it just right. I have been using these for a few weeks now and they are still like new and not falling apart. I actually like the scrubby part on it now that I have found a comfortable way to hold it. The scrubby works good for those places of dry patchy skin that I get from my psoriasis. It helps remove the dead skin without irritating my skin. Most loofahs start to fall apart after a few weeks of use and these ones aren't even coming loose at all which is awesome. I have one I use for my 4 year old daughter also, she has pretty bad eczema all over her arms and back and I can use these without it being uncomfortable for her having those areas cleaned good. The hooks that these come with are wonderful. They are heavy duty hooks that stick to the shower wall great without falling off. Please click the link below to view product.
***I received this item for free in exchange for my honest and unbiased opinion, which is what I have given***
Jenny O.
Powered by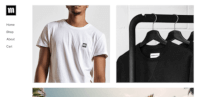 Create your own unique website with customizable templates.