​This is the RC USB Rechargeable Facial Brush Skin Care Cleaning System. This cleanser tool set has 2 speeds and comes with 4 interchangeable heads. There is a facial brush, facial sponge, 5 bead massage head, and 3D massage rolling head. My mom has been wanting one of these for a while now. She has had the battery operated ones in the past but has really been wanting a rechargeable one, so I got this for her birthday present. I also got her the set of 5 replacement heads that is offered by the same company that is for their 2 speed systems. She loves the way all of the facial heads work. The brushes and sponges work great and she says that the massagers feel great. In the set of 5 replacement heads, it had a pumice head that she tried on her feet but the unit just almost didn't have enough power for the pumice head to work as well as the facial heads. This unit is definitely a way to step up your daily facial care routine for a great price and it is awesome that they sell interchangeable heads for the unit. Please click the link below to view the product.
***I received this item for a discounted price in exchange for my honest and unbiased opinion, which is what I have given***
Jenny O.
Powered by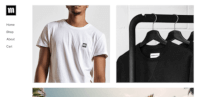 Create your own unique website with customizable templates.