​Wow! I have to go every couple of months to get a deep tissue massage. I have fibromyalgia, psoriatic arthritis, and in my lower back I have a slipped disc. My neck to my lower back stays knotted up so I go to have them all worked out. With this massager I can keep them worked out. I have had this massager for less then 2 weeks and have only gone a couple of days without using it. The day after not using it I would wake up with a lot of knots forming again. I have used this massager on my back, neck, legs, feet, and I have even used it on top of my head when I had a migraine. For the price of this massager you can't go wrong. The only issue I have with it is the netting that covers the massage balls gets irritating on my skin but I am going to make a stretchy slip cover for it to cover up the netting but still allow it to move. I love that this has heat that you can have turned on or off while it is massaging. The first day that I got this I had to keep taking it back from my two girls, ages 14 and 4, because they really like it also. Please click link below to view product.
***I received this item at a discounted price in exchange for my honest and unbiased opinion, which is what I have given***
Jenny O.
Powered by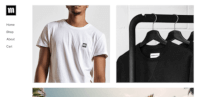 Create your own unique website with customizable templates.