​I was extremely leery about these bowls when I purchased them, but was really impressed when I received them. They are pretty sturdy and a great size. I got them to make my husband's lunches for work. They hold up great in the microwave, fridge, freezer, and dishwasher. You have to make sure the lid is on the bowl tight and snapped all the way around so it doesn't leak or pop off. They hold a great amount of food. The last picture I am posting is a comparison of this bowl and another one I had tried. It is obvious in the picture that these are a great size as it is the bigger bowl. For as well made as these are and the size of them, they are well worth the price. I love that they stack together and take up very little cabinet space. Now instead of throwing leftovers in separate bowls and then ending up throwing out later I will be separating into meals to keep in the fridge and to put in the freezer for my family. Please click the link below to view product.
***I purchased these at a discounted price in exchange for my honest and unbiased opinion, which is what I have given***
Jenny O.
Powered by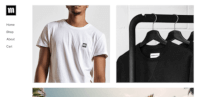 Create your own unique website with customizable templates.