When I got these I wasn't to sure about them. They feel pretty flimsy but they have actually held up well in the freezer, microwave, and fridge. I originally bought these to use for my husband's lunches but they are not big enough so I have been using them to make my kids homemade tv dinners. They have been the perfect size to make a freeze premade breakfasts for my picky 4 year old . They are the perfect size for eggs, bacon, and hash browns and it is great that there are 3 compartments to hold each one separately. You never know what mood my little one will be in so if they were all in one compartment and she wasn't in the mood to eat one of the things then she wouldn't eat any of it. At least with the 3 compartments she is able to eat what she wants from each one. The lids fit the bowls really well so I am not worried about the lids coming off in the freezer. Please click link below to view product.
​***I received these at a discounted price in exchange for my honest and unbiased opinion, which is what I have given***
​Jenny O.
Powered by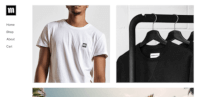 Create your own unique website with customizable templates.