​This is the SkyGenius 9W Corn Light Bulb. This warm light bulb has 360 degrees shining for soft and consistent light with no dead spots. It has a standard E26 base to fit standard base sockets. This bulb looks beautiful in lamps, chandeliers, bathrooms, dining rooms, or virtually anywhere you want to put it. Advantages of LED bulbs are energy saving, long life, instant on, etc. This LED bulb has all of the features typical LED bulbs and more. It has a better quality LED driver circuit, aluminum lamp structure, ABS housing, and is shock-proof. It has 3 times the life span of other LED bulbs and does not have the heating problem the other bulbs have. The lamp structure of aviation aluminum kills the heating problem. This is a great bulb for both home and commercial use and it looks great no matter where you choose to use it. You will get quality lighting while saving money using an energy saving bulb so you will be cutting your electric costs. Please click the link below to view the product.
***I received this item free in exchange for my honest and unbiased opinion, which is what I have given***
Jenny O.
Powered by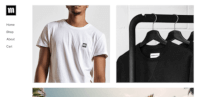 Create your own unique website with customizable templates.