​This is the Misc Home Indoor Kitchen Stainless Steel Compost Bin. This white compost bin will hold 1.2 gallons of food. It is very stylish and looks great in your kitchen. It has an odor absorbing dual filter. The 2 activated charcoal odor absorbing filters allow you to store your scraps without having to smell them. The bin and filter are both easily washable and the filters will last up to 6 months if you handle it carefully. With a family of 5 and a few picky eaters in the bunch, we end up with scraps. Around here there is also a problem with gnats and fruit flies. I hate scraps just sitting on the counter until my son throws them out for the strays. This bin is the perfect solution to contain the scraps and their smells and reduce the amount of gnats since the food is no longer sitting in a dish on the counter. This not only solves both of the problems but this container looks great sitting on my counter also. It is very stylish and looks a lot better than a nasty pile of scraps on a plate. Please click the link below to view the product.
***I received this item for a discounted price in exchange for my honest and unbiased opinion, which is what I have given***
Jenny O.
Powered by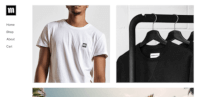 Create your own unique website with customizable templates.