This a great spiralizer and peeler made by Kaveman & Co. It is a 4-in-1 bundle for vegetables, zoodles, and zucchini noodles. It is BPA free and ABS food-safe plastic. This has 4 sizes of blades for a variety of uses and is a compact size for easy storing and smaller spaces. This spiralizer is very well made and is a very handy addition to your kitchen tools. This does a variety of vegetables and will be a fun tool to encourage a healthier lifestyle. This is great to make casseroles, salads, vegetable noodles, etc. Put your imagination to work with this fun kitchen gadget. This is a fun way to also get your kids into the kitchen to help prepare food that they will eat because they had the fun of being able to help make it. This makes peeling potatoes quicker and easier on the hands and wrists. This is a very interesting thing to use that also makes your time in the kitchen more efficient, which as a mom of 3 I know all too well how important our time is. Please click link below to view product.
***I received this item at a discounted price in exchange for my honest and unbiased opinion, which is what I have given***
Jenny O.
Powered by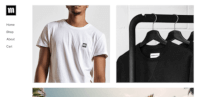 Create your own unique website with customizable templates.