​This 24 pack of cloths that are made by royal are great cleaning cloths. They are very durable and high quality 100% cotton. They are lightweight and absorbent and dry quickly to reduce the growth of bacteria and mildew. These are commercial quality like the ones you see being used in restaurants and hotels. They are very well made and even have reinforced edges to prevent unraveling. I have had these for a while now and they have held up well to a lot of cleaning and multiple washes and dries. They are 12 x 12 and have very little shrinkage after washing. They are a little thin but it hasn't reduced the quality of them as they have held up really well. With it being a 24 pack there are plenty to have enough in the kitchen and each bathroom for cleaning. Great for use in any room or even the garage. These are very affordable for it being such a big pack and would also make a great gift to add for newlyweds, house warming, or any holiday. Please click link below to view product.
***I received this item for free in exchange for my honest and unbiased opinion, which is what I have given***
Jenny O.
Powered by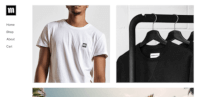 Create your own unique website with customizable templates.